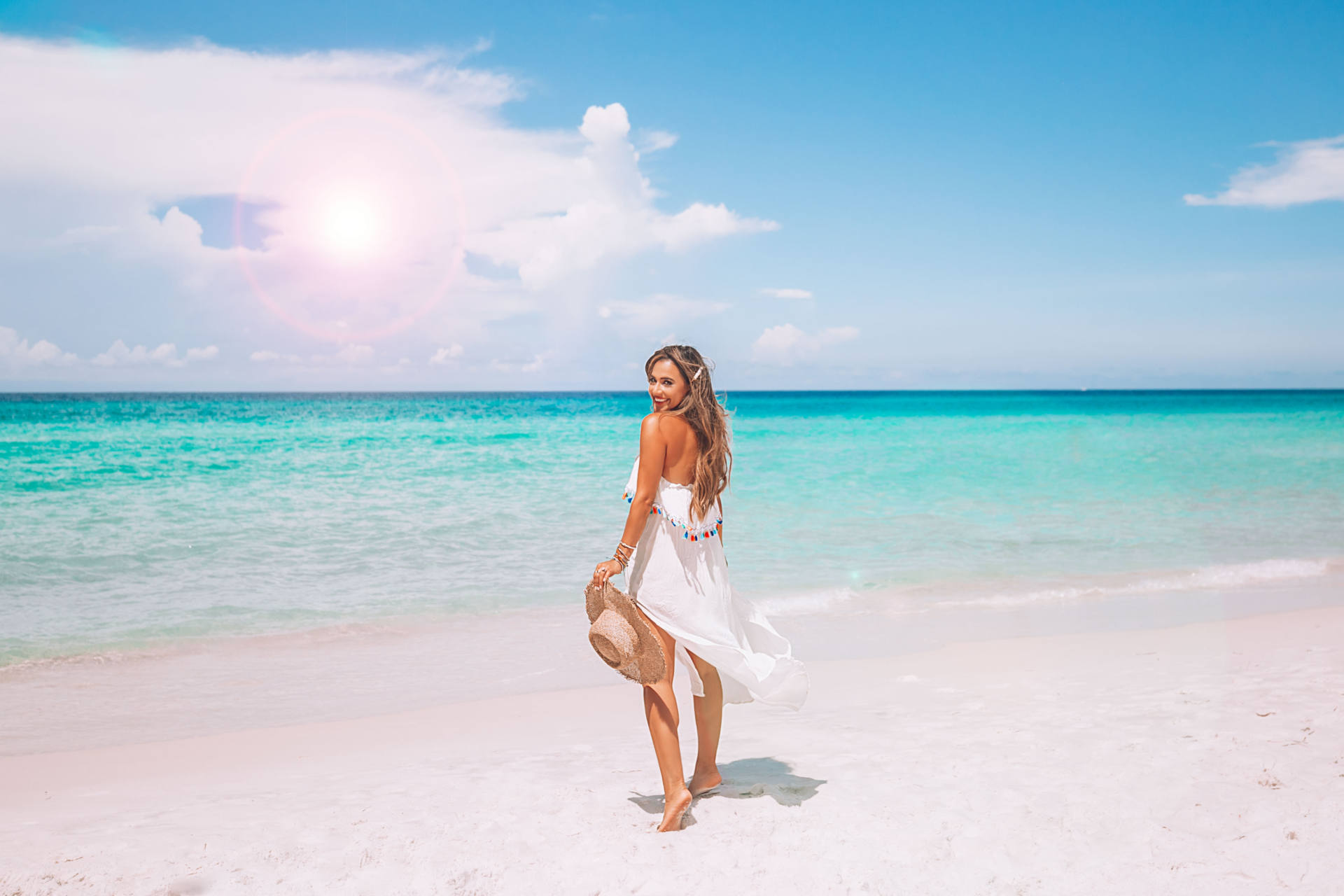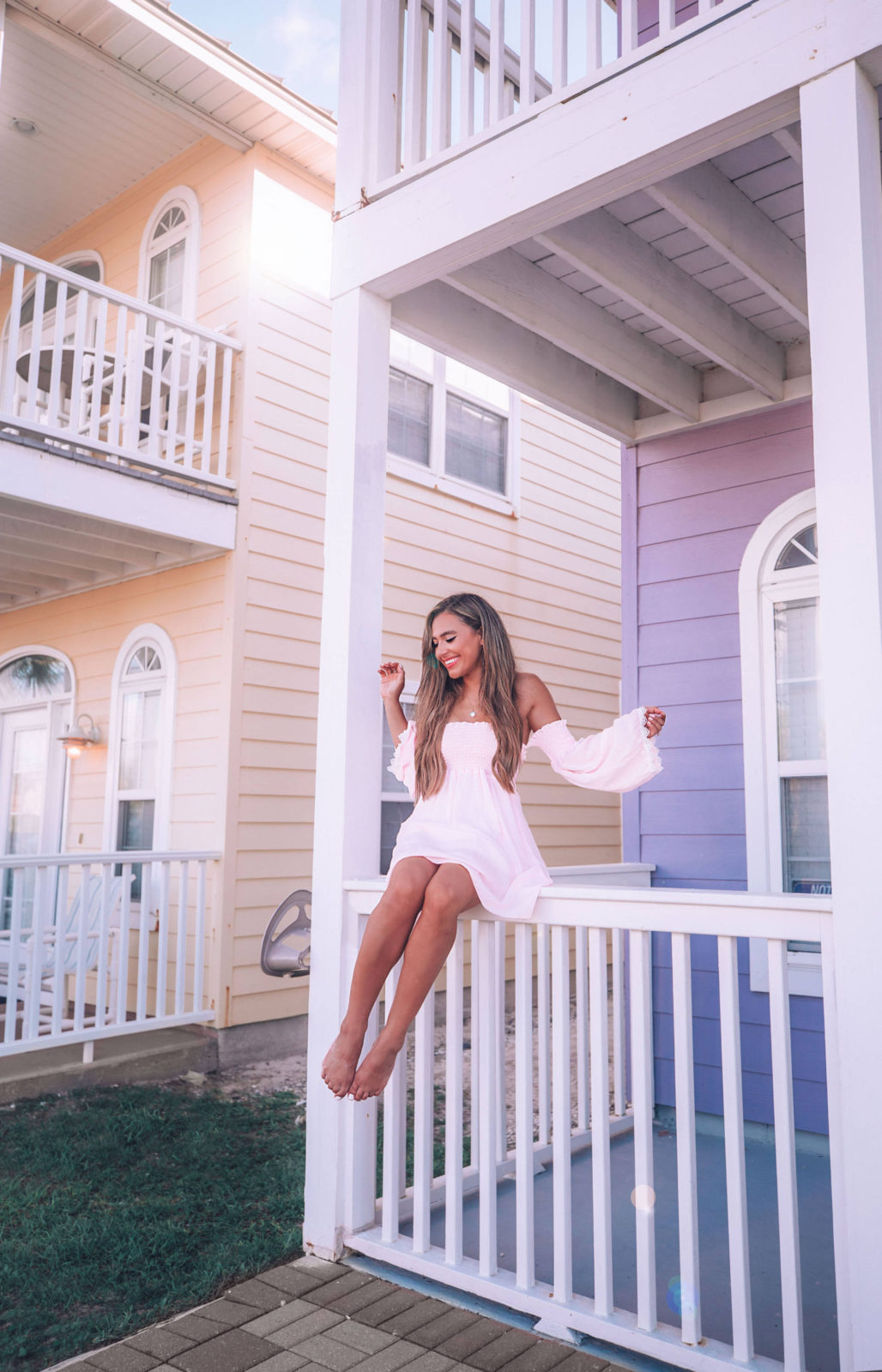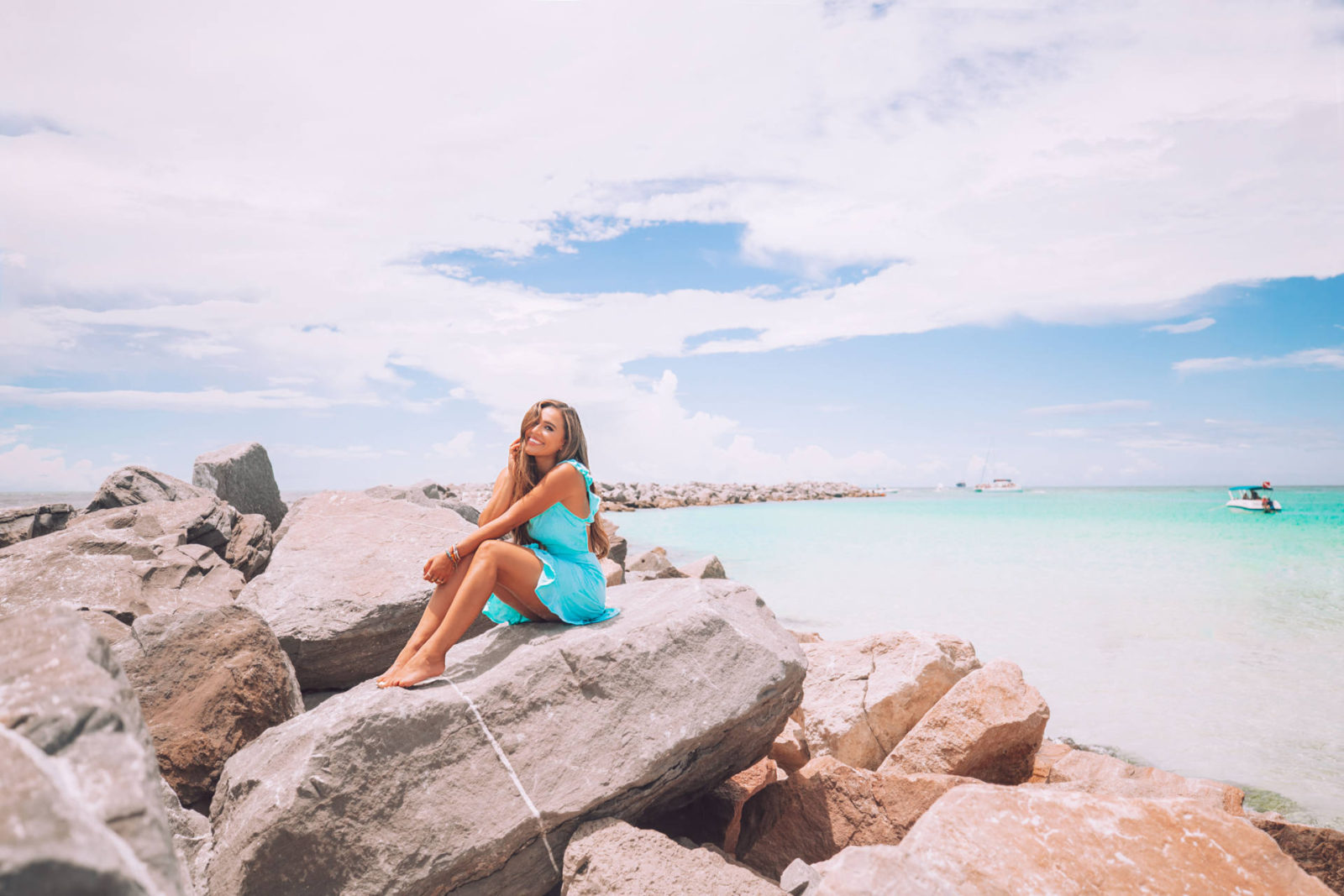 shop a similar look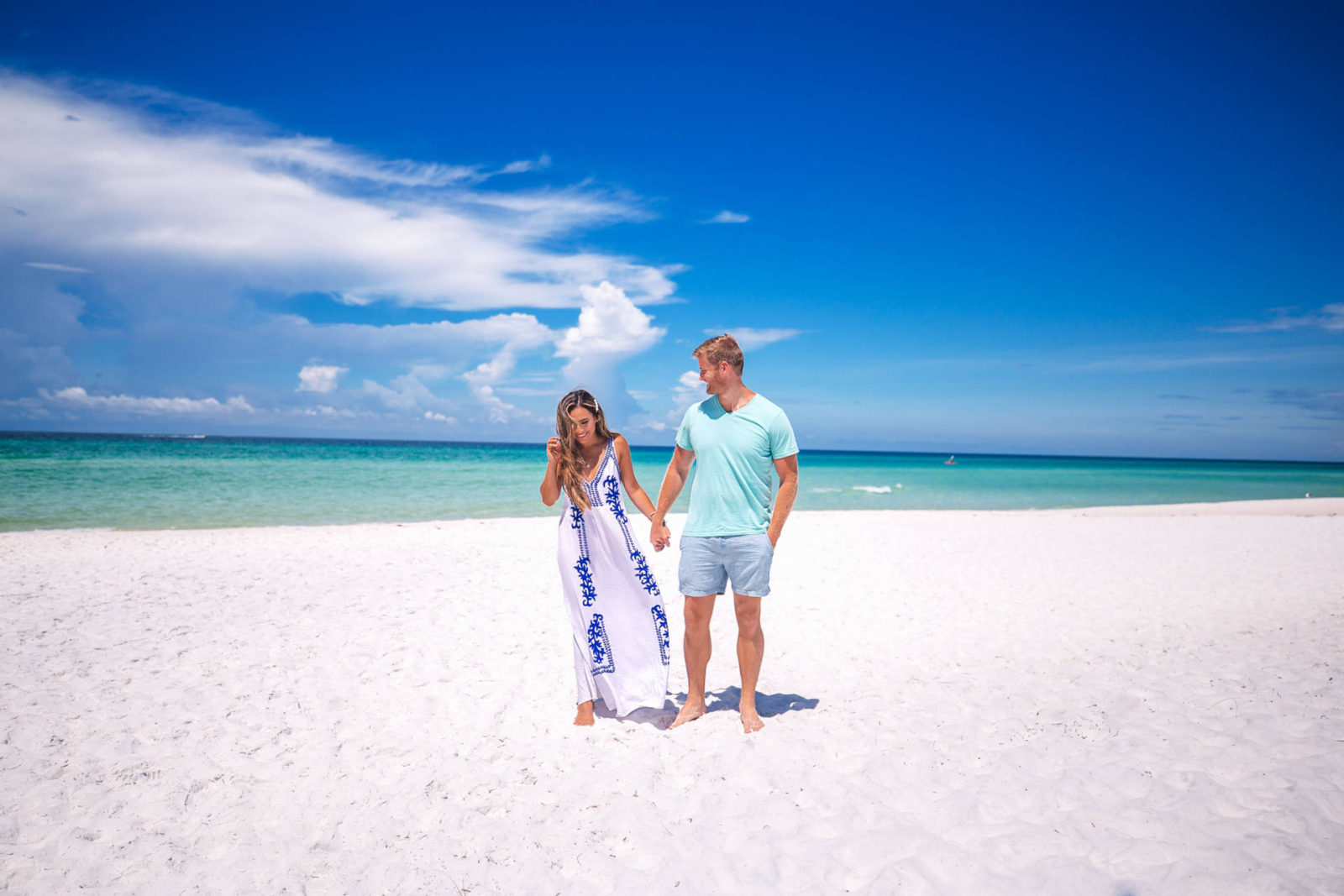 shop this look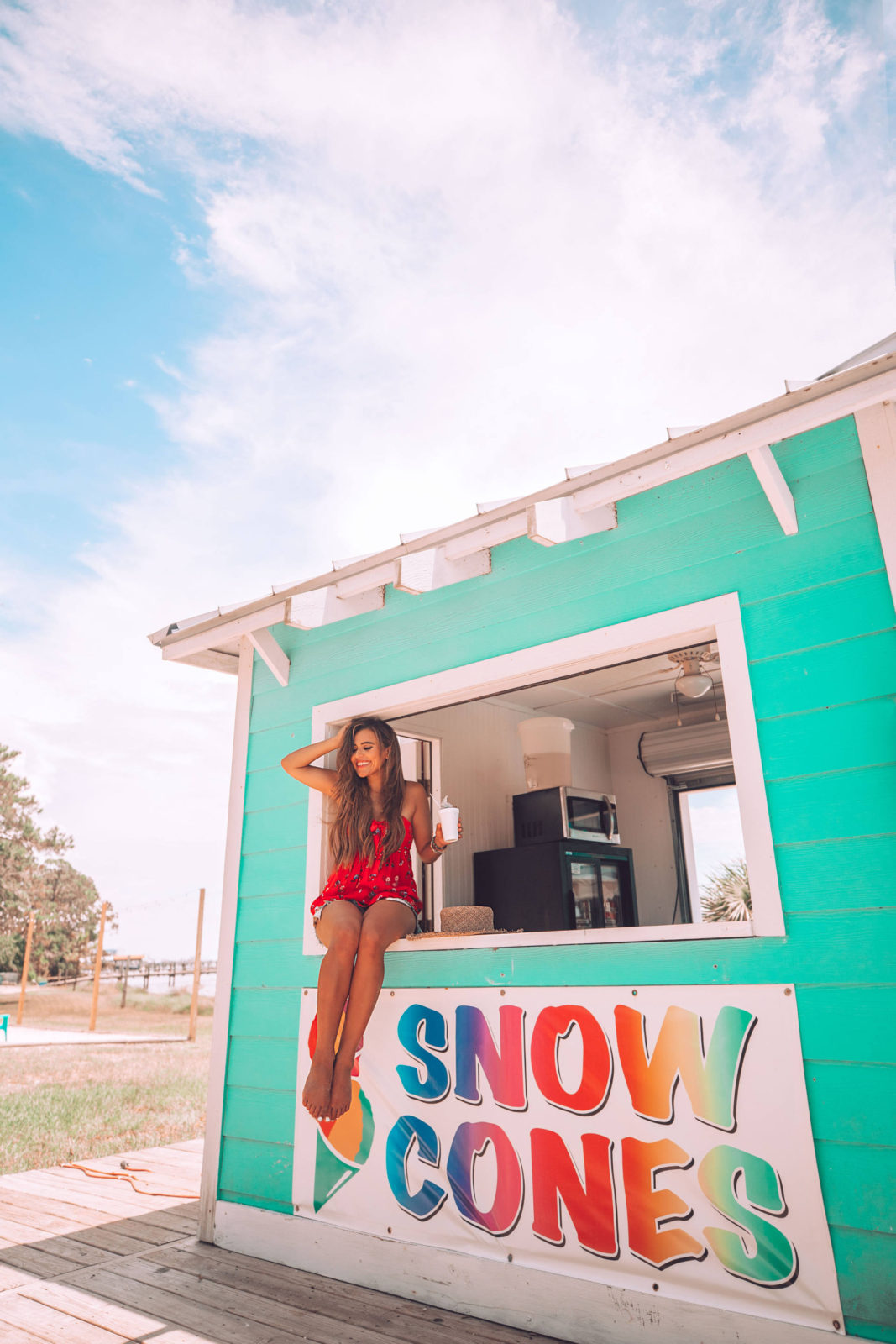 i've always heard how beautiful the panama city beaches are, but i'll be honest… i had no idea just how beautiful the panama city beaches are.
david and i spent a few days soaking up the sun and breathing in the fresh ocean breeze in this beautiful little town. aside from the stunning views and gorgeous water, panama city
beach just so happens to also be a foodie's paradise. it was such an unexpected but very pleasant surprise. we beach hopped and restaurant hopped to our hearts' content and still feel like we only scratched the surface!
below is my travel guide for all things panama city beach. if you happen to stumble upon any other hidden gems in the area (as i know there are many) leave it in the comments below! after all, sharing is caring! and make sure to scroll to the bottom to check out panama city beach's 2019 calendar of events!
activities
jet ski adventure
i highly recommend this one! we had so much fun cruising around on our jet skis and zipping through the ocean waves. we stopped at shell island where we got to hang out for a bit, but not before admiring numerous dolphins playing in the water just inches away.
tennis lessons
head to sheraton panama city beach golf & spa resort for an early morning, or afternoon of fun-filled tennis lessons. this is an activity that all can enjoy, solo players, couples or even a fun family activity to get outside and get active!
sunset cruise
there are many beautiful cruises to choose from. this is a great alternative for those that want to be on the water and watch the sunset without jumping in and getting wet! if you opt for this outing, be on the lookout for dolphins gracefully swimming beside the boat trying to catch a glimpse of the gorgeous sky, too!
pier park
head to pier park to get in a little shopping and exploring! there are tons of great shops, restaurants and activities for the whole family. my personal favorite was grabbing a bite of ice cream and enjoying the beautiful scenery. if you're up for the adventure and a little fun, you can take a ride on the skywheel for some of the best views of panama city beach or accept the scavenger hunt challenge and really get to know your way around pier park!
st. andrews state park
this was one of my favorite beaches. there is a fee to enter the park, about $2 per person or approximately $8 per vehicle, but it was worth every penny! the water was beautiful, the beaches were clean and peaceful, and the water was b e a u t i f u l [yes, i know i mentioned that one twice, but the water was just that beautiful!!]
beach hangs
this one is as easy as it sounds. every beach we went to was beautiful with soft white sands that compliment the ocean blues. best of all, most beaches are free public access, so grab your favorite beach read and park it here for a relaxing afternoon.
shop these looks

restaurants
runaway island
14521 Front Beach Rd, Panama City Beach, FL 32413
this is one of the best spots to watch the sunset and we had one of the most beautiful sunsets while we dined here! if you like shellfish, try the crab legs and finish it off with a slice of key lime pie.
pompano joe's
16202 Front Beach Rd, Panama City Beach, FL 32413
come hungry because this place gives the phrase "everything is bigger in texas" a run for its' money. portion sizes are very generous! i ordered a taco salad that i would highly recommend and david went with the scallops that got more delicious with every bite.
andy's flour power
2629 Thomas Dr, Panama City, FL 32408
they serve generous portions and everything is so tasty and fresh! i went with an egg white omelet for a healthy start and loved it! also, the breakfast martini is a must try!
grand marlin of panama city beach
5323 N Lagoon Dr, Panama City Beach, FL 32408
this is an absolute must!! we weren't very hungry when we walked in, but we might as well have licked every single plate clean. by far my favorite restaurant in the area!
finns island style grub
7210 Thomas Dr, Panama City, FL 32408
stop by finn's for some homemade kombucha, or your favorite oatmilk coffee to pair with their scrumptious tacos.
schooners
5121 Gulf Dr, Panama City, FL 32408
you can walk right out onto the beach from schooners. this is a great spot to grab a bite of lunch, watch the afternoon ball game on one of the many TVs, and then hit the beach!
firefly
535 N Richard Jackson Boulevard, Panama City Beach, FL 32407
this is a great date night spot! the ambiance sets the mood perfectly and the wait staff was beyond incredible. everything was absolutely delicious.
liza's kitchen
7328 Thomas Dr L, Panama City, FL 32408
the scallywag is a must try. probably one of the best sandwiches i have ever had, and i love a good sandwich. if the scallywag is not on the special menu, ask if they can make it for you. you'll never look at a sandwich the same way again.
best photo spots
rainbow houses pier park
*tips these houses can be tricky because people do live in them so there will be some in and out traffic along with cars parked in the driveway. the owners i encountered were super friendly and a-okay with me shooting in front of their homes, but definitely be mindful and respectful!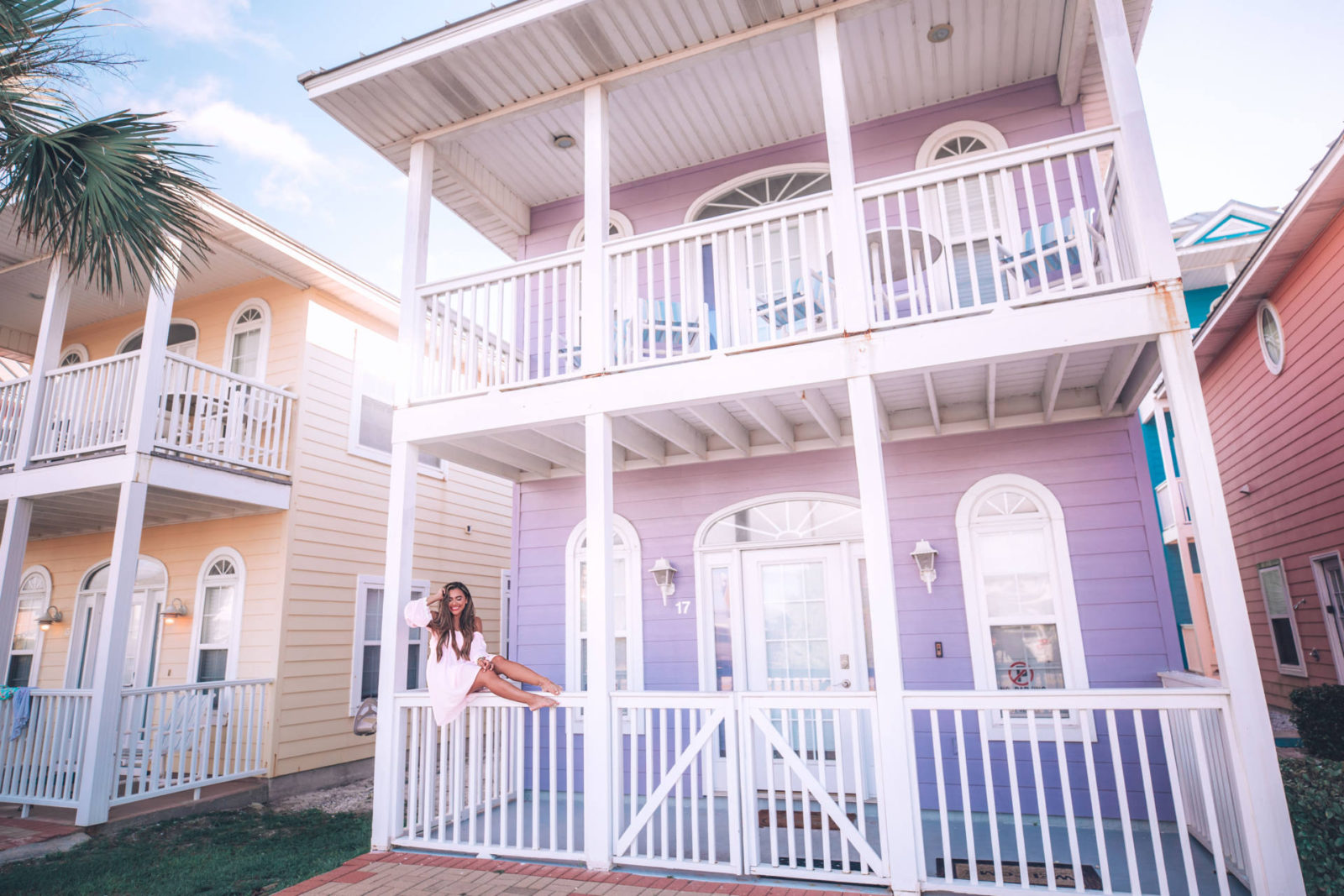 shell island
we arrived to shell island by jet skis and loved every second of it. because of this mode of transportation, we opted to leave behind our camera equipment and just enjoy the ride. however, the scenery here is absolutely gorgeous and definitely photo worthy! you can also arrive by boat and spend a few hours out this way. this is something i will definitely do next time i return to panama city beach.
miller pier
tips* this area will get crowded throughout the day. if you want the best lighting with minimal people popping in and out of your picture wake up early and soak it all in before the hustle and bustle of the day. we arrived around 7 AM and there were already several people out, but we were able to get good shots with no issues at all.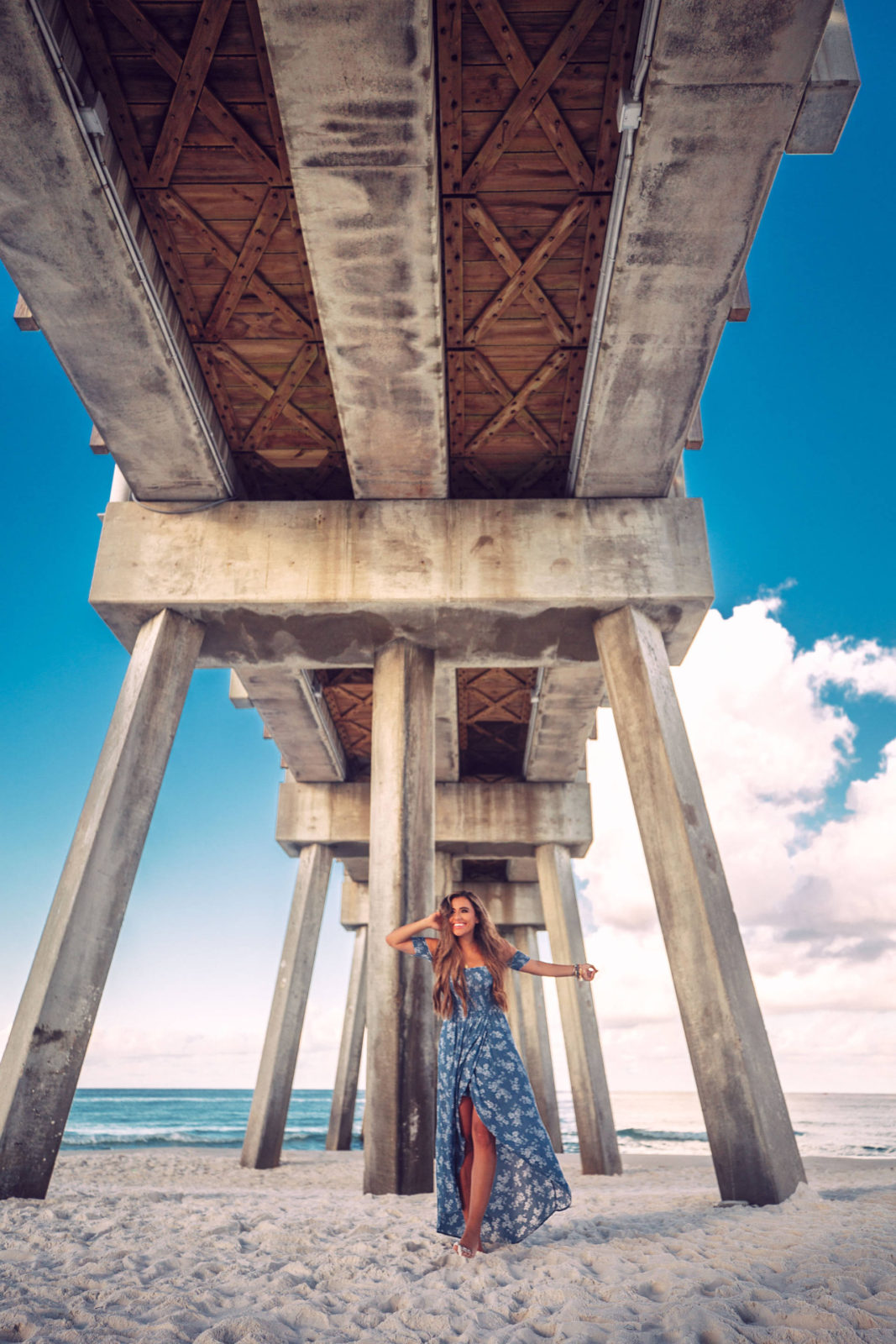 shop this look

                
                


                    
                    
                


            
pier park
tips* pier park is definitely a hotspot. this is another area you will have to wake up early if you want one of those IG photos with no people in sight. otherwise, embrace the crazy. the bustling surroundings are kind of charming in their own unique way. just make the most of it and be sure to snag a photo under the iconic pier park welcome sign!
st. andrews state park
tips* this one doesn't require many tips. it's beautiful no matter where you turn or decide to shoot! just smile and go for it!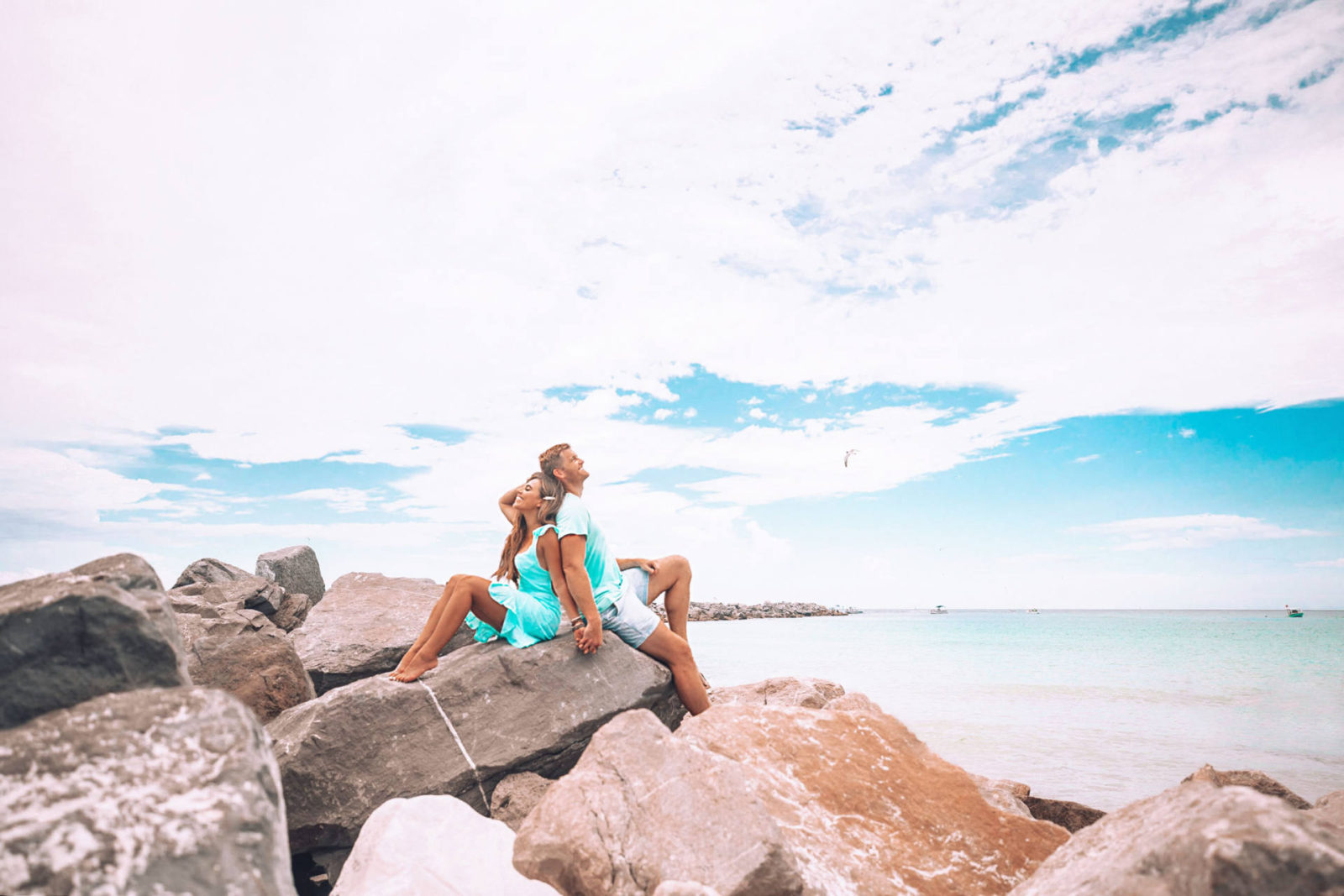 shop a similar look

transportation
we flew in to panama city beach airport (ECP) and rented a car. it's a smaller sized airport so everything was easy and seamless! if flying in, i would definitely recommend renting a car so you can freely explore the area.
accommodations
there are many airbnb and hotel options in the immediate area. if you plan on vacationing on the beach for most of your stay, i recommend finding a property with beach access.
2019 calendar of events
Panama City Beach Octoberfest: October 4-6, 2019:
Locals and visitors alike will raise a glass and don their lederhosen for this annual celebration of German heritage. Authentic German beer and brats are the star of the show, while this year's festivities will feature stein hosting competitions, live music, and plenty of activities for the kids. For more information, click here.
Pirates of the High Seas Fest: October 11-13, 2019:
Columbus Day weekend will bring a treasure trove of fun-filled adventures to Panama City Beach with the Pirates of the High Seas Fest. Taking place throughout the Grand Lagoon and in Pier Park, the Festival includes an ensemble of parades and sword-swinging showdowns, a pirate invasion, a Treasure Drop and fireworks display. For more information, click here.
Lobster Festival & Tournament: Oktober 14-20, 2019
This week-long celebration welcomes Lobster lovers from near and far for the biggest lobster tournament and festival in the area. Attendees can expect live music, contests and lots of delicious Florida Lobster! Held at Schooners Last Local Beach Club, this event is a must for foodies of all ages! For more information, click here.

IRONMAN Florida: November 2, 2019 / IRONMAN 70.3 Gulf Coast April 14, 2019
What began as a challenge between groups of Navy SEALS has become one of the most recognized endurance events in the world. IRONMAN is a statement of excellence, passion and commitment that is a true test of mental and physical toughness. Florida edition of the challenge serves as one of the most popular races on the circuit. Panama City Beach has proven to have the best combination of temperature and terrain for this competition. For more information, click here.
Emerald Coast Cruzin': November 6-9, 2019 / March 6-9, 2019:
The bi-annual car show at Aaron Bessant Park is perfect for families and features thousands of hot rods and classic cars. Events include a swap meet, parade, cruiz-ins, block party and more. Live music will also be provided during the event. For more information, click here.
Beach Home for the Holidays: November 22-23, 2019:
A great holiday tradition for the family, locals and visitors can kick off the most wonderful time of the year with free holiday concerts at Aaron Bessant Park Amphitheater, free seasonal-themed events like campfires and s'mores, meeting with Santa, a Christmas tree-lighting celebration and more. For more information, click here.
Panama City Beach Marathon, Half Marathon & 5K- December 7, 2019:
Hosted by the Panama City Beach Chamber of Commerce, guests can run through paradise and alongside award-winning beaches in the annual Marathon, Half- Marathon and 5K. The 26.2-mile race attracts thousands of both residents and visitors to the destination year after year. For more information, click here.
xoxo | jasmine