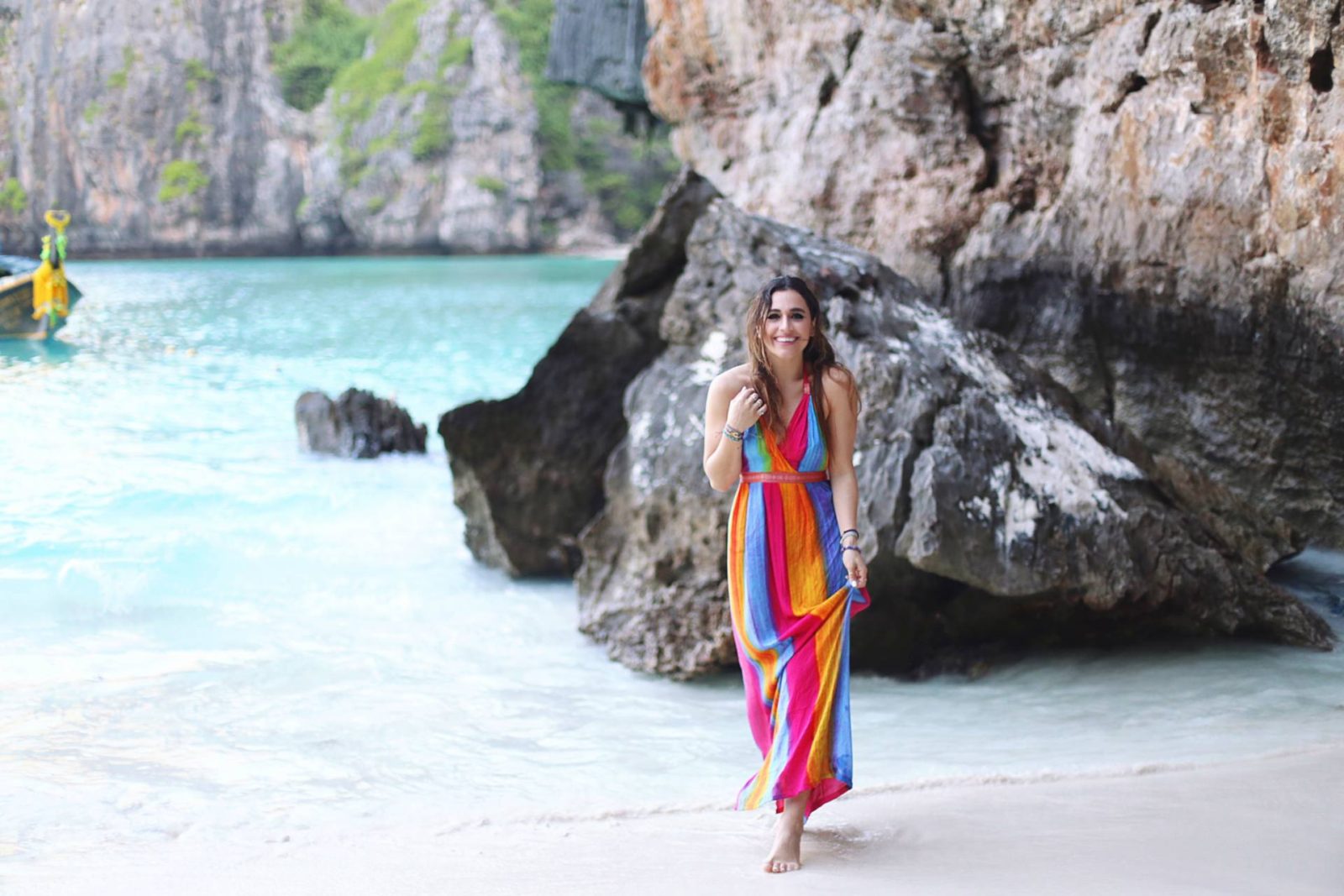 thailand has always been such a dream of mine. i was elated when i found out we were going for a long weekend to ring in the new year and celebrate david and i's one year anniversary. [he's going to have a lot to top next year!!]
needless to say, i got right to packing. packing for thailand was very similar to packing for bali. be prepared to be hot, so pack things that are breathable and show minimal sweat stains [it happens to the best of us].
if i was packing minimally i could easily have lived off of 2-3 pair of shorts, a skirt and some sensible t-shirts. oh, and of course.. add in a swim suit or two! so, if you need to pack light, it is most definitely do-able! i like to think i fall somewhere in between on the scale of minimal to extra.
i always do my best to pack in one carry-on size or medium suitcase and a backpack. you can check one and carry the other, or carry both if your airline allows it and you prefer it.
i keep my backpack with me along with all my valuables such as camera equipment, jewelry, documents and money. i also always pack an extra change of clothes just in case something happens to my bag and there is a delay. trust me, you will thank me for this one if the case of a lost bag ever happens to you.
click here to see a full guide on what i pack in my carry on.
maxi dresses
i never travel to a beach destination without a good maxi! they're so easy to throw on for a nice meal, a casual day, or even as a cover up during a beach day. not to mention they really make pictures look great!
shop maxi dresses

tops and tanks
these are just necessary. i always tend to choose solid and basic colors for travel, but every once in a while i find a fun top that i just can't say no to!
shop tops

shorts
bring comfortable shorts. shoes that you wouldn't mind walking around in for hours, while being sweaty. definitely air on the side of comfort!
skirts
packing a skirt is a great idea if it is made out of breathable material. it's a great way to make multiple outfits out of the items you pack. ie. wear top a with shorts a. then top a with skirt a. and wear skirt a with one-piece bathing suit a. so again, a great way to make the most of your luggage space, and may be necessary when visiting temples!
shop shorts + skirts

bathing suits
i recommend packing a bathing suit that is comfortable enough to wear underneath your clothing for day excursions that involve both water and land activities. one piece bathing suits are great for this! the less you have to carry around while on excursions means the less you have to keep up with and the less chance of losing something.
shop bathing suits 

shoes
i decided to go extra comfy with shoes this trip and wore the comfiest sneakers on the plane and lived in flip flops and sandals. honestly, i think i was barefoot more times than had actual shoes on. this is one place i would say it is a-okay to leave your heels at home. if you know, i 
always
 have a pair of wedges with me, you know… just in case. i can honestly say this trip, i went with out! well, with the exception of 
these sandals
 which are basically just sandals, with a 
little
 extra :).
shop shoes 

accessories
i always bring a pair of sunnies. if you plan on playing in the waves, opt for a cheaper pair that you wouldn't be heart broken if they got swept away. sunscreen is more expensive in thailand, so i do recommend bringing one with a high SPF, because it gets hot! also, it's a great idea to pack a beach towel that you're able to lay on the hot sand with. you can purchase them in thailand if you want a souvenir, or spend your money elsewhere and bring one from home!
i do always travel with a foldable beach bag and dry bag. this way i don't have to constantly worry about sand and water ruining my belongings and can take pictures and capture memories throughout my trip.
make sure you bring the correct outlet converters or adapters. if you're unsure of what to bring, reach out to your hotel or accommodation. our first hotel actually had a multi-purpose outlet and my American plugs worked just fine! our second hotel was a different story. i purchased european adapters for my cell phone and power bank which worked just fine.
shop accessories

so much more thailand, coming soon!!
xoxo | jasmine