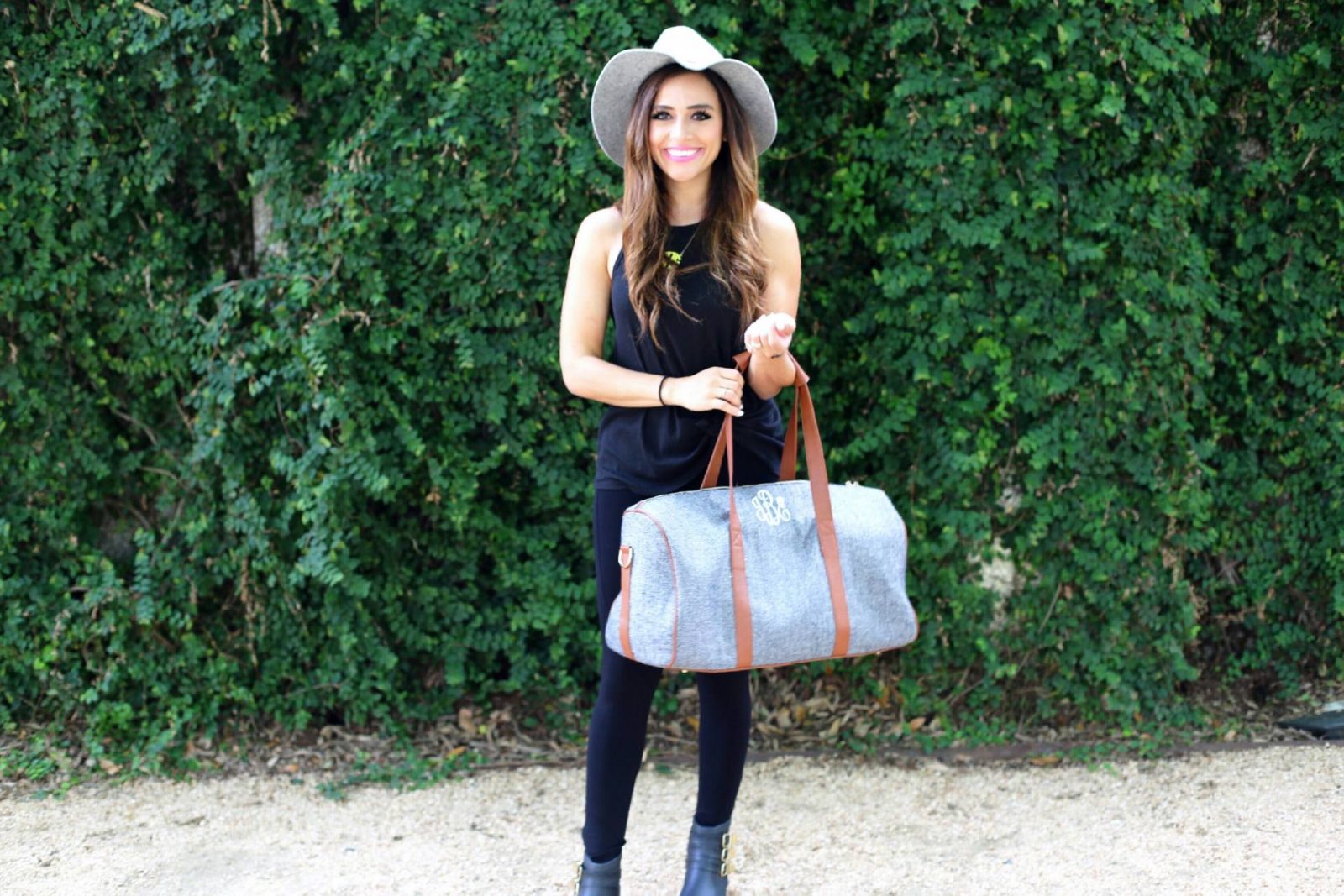 traveling means something different for everyone. some [like me] get giddy with excitement for wherever the next adventure may be and others are riddled with anxiety because traveling is just not their thing. wherever you may fall among the spectrum, when traveling via airplane or train for long periods of time, it's important to be prepared. your journey can and will be enjoyable if you bring along a few comforts to keep yourself entertained, full, hydrated and feeling and looking great. below is a list of my top 10 travel necessities that i never travel without.
1. all necessary travel documents
it's important to keep all important travel documents and forms of identification with you at all times. this includes your driver's license, passport [if flying out of the country], flight itinerary [including any connecting flights and return travel], directions to your hotel(s) or where you will be staying, credit cards [only the ones you will be use during your travels. leave any additional credit cards in a secured location at your place of residence], extra cash, any activity tickets you have pre-purchased [sports games, train tickets, concerts, etc.] addresses and phone numbers of anyone you will need to reach at your destination. in addition to the above, i like to make an extra paper copy of any forms of identification such as driver's license and passport. if your purse were to get lost or stolen, it's a great idea to have the back-up. especially when out of the country.

2. re-usable water bottle
airplanes can be dry and the small cups of water given to you on the plane are typically not enough to keep you hydrated throughout your flight. once through security you can fill your reusable water bottle at any given water station/fountain. this will not only save you a couple of bucks [airports tend to be pricey] but it's also great for the environment and you can re-fill it as many times as you like.
below are some of my favorite water bottles to carry. the s'well water bottle is my all-time favorite go-to because any liquid inside holds its' temperature so well. after an 8-hour flight, my water was still ice cold.

3. entertainment
this is an important one. if you've ever been stuck in the seat with the broken screen or on an older plane that has one screen for several rows and the person in front of you just happens to be 7ft tall with hair that touches the ceiling, you know what i'm talking about. programs such as netflix and amazon prime allow you to pre-download shows and movies on to your tablet/phone/computer. i highly recommend you having at least one movie back up, or a good book to read to keep you company. music for me is always a must as well. i will typically make a playlist on spotify and download to my phone so i can listen to it on the plane [wi-fi access is unnecessary for both of these options].
*headphones certainly are a must as you don't want to disturb any passengers sitting next to you while listening to your awesome movie.

4. cell phone charger/ power stick
in over crowded airports, your cell phone battery can and will drain quickly. and if you plan on using your phone as a source of in-flight entertainment, you can expect to land with 0% battery if you don't prepare.
many of the newer planes are equipped with USB ports that will keep your battery life throughout your flight and get you on the ground fully charged. for those that are on a flight without any source of battery power, charge sticks will be life-changing. make sure to fully charge one [i suggest bringing two] and start re-charging your phone about 45 to 30 minutes before landing so you will be able to use your phone to make any necessary calls upon arrival. if traveling to another country, make sure to bring appropriate adaptors if necessary.

5. make-up/toiletries bag
for long flights, i like to wear as minimal make up as possible. if you are wanting to look your best at your destination, i recommend freshening up prior to landing. throughout the flight, you can apply lotion to your skin to help feel refreshed and to moisturize in the dry airplane environment. your skin will thank you and you will look and feel radiant once you land. i also pack face wipes to stay refreshed and keep my skin clean during flight.
 it's also important to keep the essentials that you use on a daily basis with you. every day make up, tooth brush, toothpaste, deodorant, dry shampoo and a hairbrush. the dry shampoo will bring life back to your hair after a long flight and should your luggage be delayed, go missing, or get lost, you will have your necessities to get you through the time it takes the airline to find your luggage and get it to you.

6. a sweater or scarf
airplanes are known to get chilly and theres nothing worse than trying to relax while your body has a case of the shivers. some airlines supply blankets and some do not. either way, i always carry a sweater tied around my waste [you don't want it taking up valuable luggage space].  once on the plane, i store my sweater under my seat until the plane cools down and on it goes. to be honest, i usually don't make it past take off without my sweater warming me up. wildfox is my go-to brand because of their comfort, warmth and light-weight material.
if the weather is appropriate i sometimes swap out my sweater for a blanket scarf and wrap up once the plane starts to cool down.

7. a change of clothes
my carry-on always consists of an extra pair of leggings, a t-shirt and underwear. as stated before, if your luggage gets lost or delayed, be prepared. leggings and a t-shirt are simple and take up minimal space when folded. you can pair it with your scarf or sweater brought on the plane for a new outfit/a weather appropriate outfit if your destination is chilly. a more casual outfit can be swapped out for a business suit or dress if either is needed shortly after your arrival.

8. valuables
if you are traveling with any high value items keep them at an arms reach. airlines and airports work hard to prevent theft, but if you're on vacation take the stress out of the equation and keep your valuables near you.
below are some great cases that help minimize space as well as keep your valuables organized and simplified.

9. snacks
there's nothing like being hungry and having nothing to eat. pack sustainable and nutritious snacks to help satiate your appetite. if you pack anything that gets your hands messy, throw in some wet-ones to clean up afterwards.
do keep in mind, if you pack any fresh fruits or vegetables you will most likely have to finish them on the plane of throw them out if you are traveling to another country.
also, as much as i love beef jerky… don't be that person that stinks up the plane.

10. nap essentials: eye mask and pillow
they may look silly, but you will be so grateful when you are trying to take a snooze. eye masks help block the light out and allow your body to fully relax and get in some zzz's. a good airplane pillow will help support your neck and help prevent you from waking up with aches. i shamelessly clip my neck pillow to the outside of my backpack or travel bag to free up all luggage space inside.
below are my favorite eye masks that are comfortable and great for taking airplane naps.

always remember to travel light [i'm chuckling to myself… because clearly packing less is easier said than done] and just enjoy your vacay time. the small stuff is never worth the stress.
monogrammed duffel bag from: pink lily boutique
xoxo | jasmine