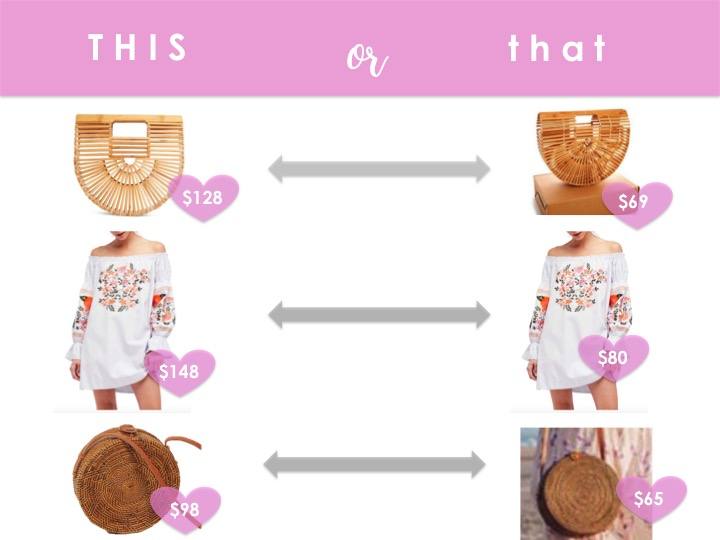 this: bamboo arch bag | free people dress | rattan bag
that: bamboo arch bag | free people dress | rattan bag
everyone's favorite segment this or that, is back! today i'm comparing some of the the season's hottest items. and you wouldn't believe it, but the second item being compared is the exact same dress! literally, the exact same dress, same brand, same colors, just completely different prices from different retailers.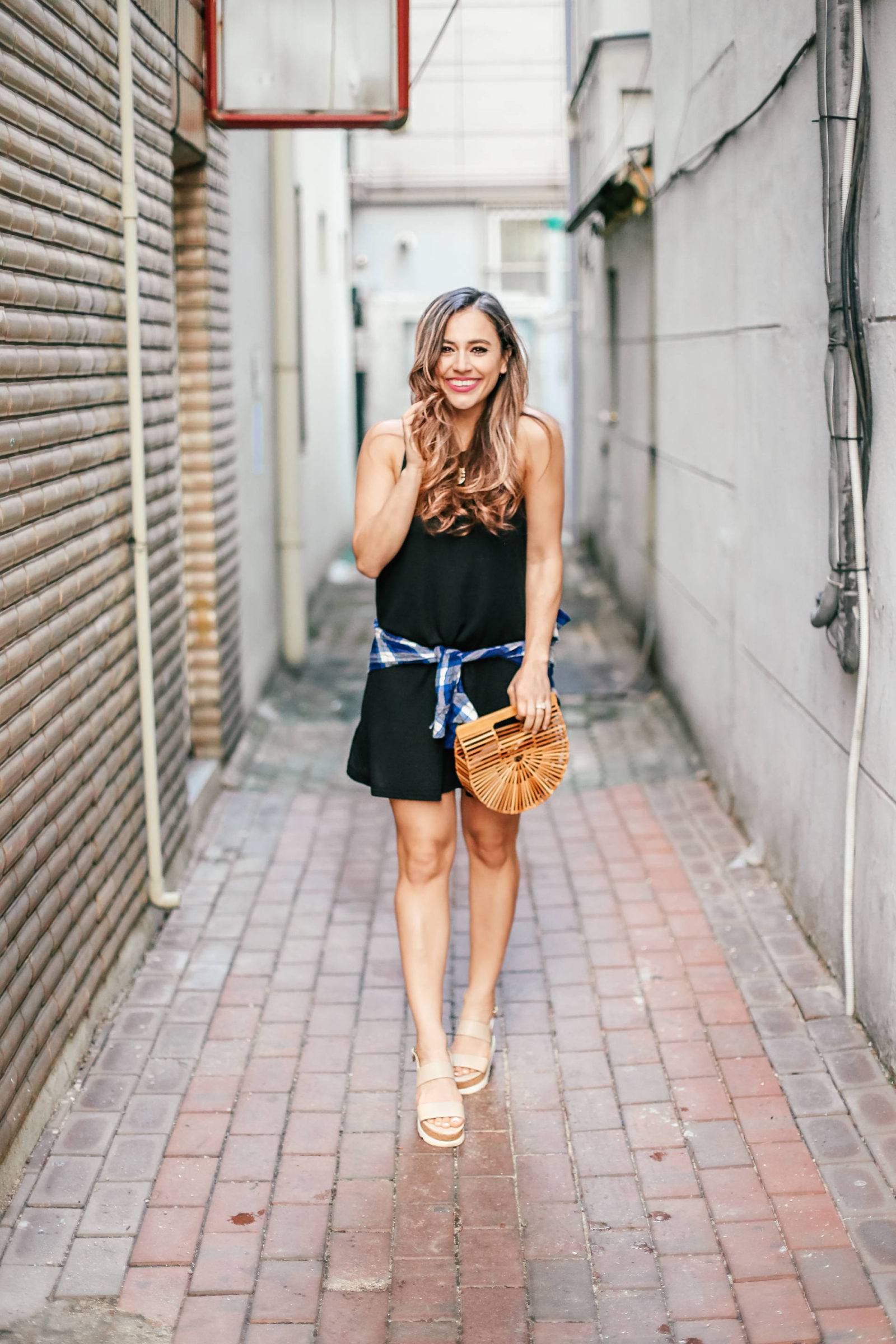 the first item we're going to discuss is the insta-famous cult gaia bamboo arch bag as shown in the photo above. this item was constantly sold out last spring. there were numerous restocks and near immediate sell outs each and every time. it was no surprise that the bag made an appearance again this spring season, and guess what.. it is selling out again!
this year however, there are tons of dupes floating around. i picked a near identical dupe from a reputable retailer, with a much lower cost. i'm a little torn on which to steer your towards, so i'll give you pros and cons of both. i personally, am sticking with the original, cult gaia bamboo bag because i travel quite often and wanted to ensure that the quality of the bag would uphold the rough and tough baggage claim. i also know that i will get tons of use out of my bag, so i wanted to ensure it was going to last for a while.
the dupe would be a good option if you would only wear the bag a few times or on special occasion. if you don't fully love the design, but want to give the trendy piece a try, the dupe is great option if you are not ready to commit to the full price of the original.
shop this look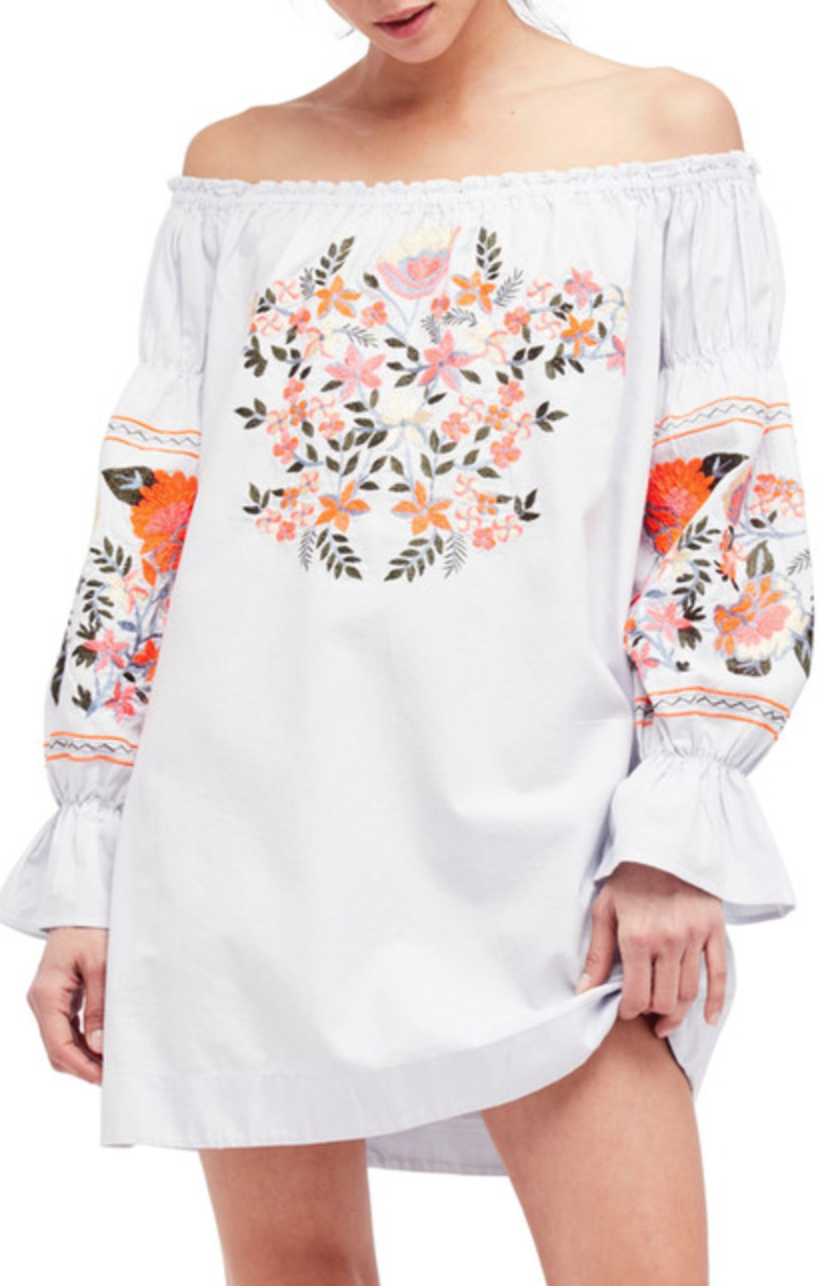 photo credit: here
now onto our second item, this free people dress. this will be short and sweet because, well… it's the same item just a different price. the lower cost item is from last season's line of free people's spring dresses. they re-made the dress because it was a hot ticket item, but there aren't any noticeable differences in the re-make. therefore… choosing that and saving a pretty penny is definitely the way to go.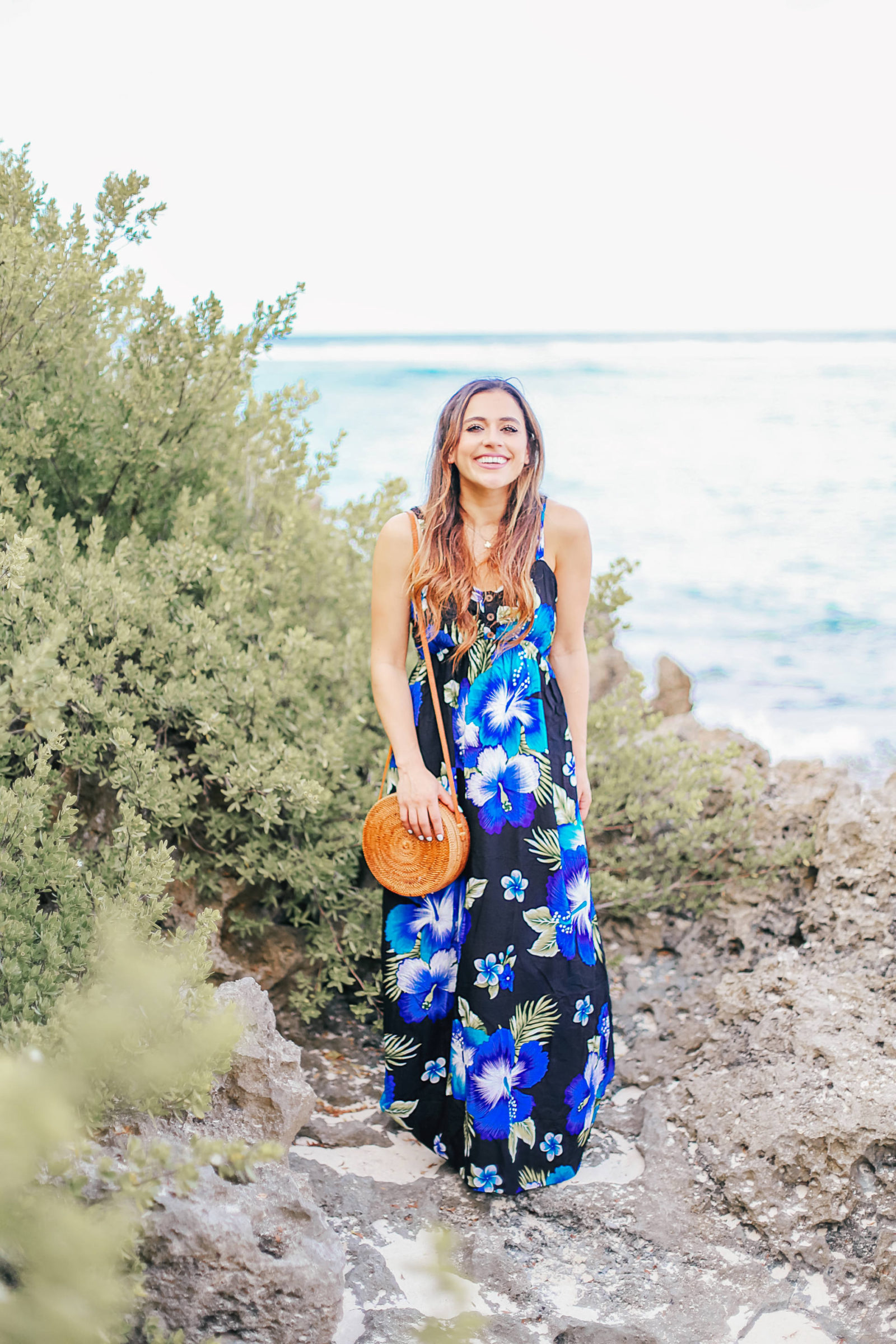 our third item is another "it bag" for this spring and summer season. when it comes to handbags, i tend to always lean towards the splurge for a few reasons.
1. i always buy a handbag that i know i will get a lot of wear out of and want to last for years on end.
2. a handbag has a very important job. it holds all of our your valuables, so you want it do be dependable.
3. i can admit to being rough with my handbags, so durability is very important to me.
for those reasons, i would say go for the splurge and make the investment on this gorgeous rattan circle bag. again, if you're wanting the bag for a trendy seasonal piece or budget does not allow for the original, then going for the dupe is a sensible option!
shop this look

shop this or that

xoxo | jasmine
be sure to enter my thank you giveaway below!! and a huge THANK YOU for following along. it means the world to me!!!
This giveaway is brought to you by the talented bloggers below! Enter by performing the actions listed in the Rafflecopter for a chance to win a $500 Target E-Gift Card.
Make sure to do the actions in the Rafflecopter before marking they are done! Marking done doesn't automatically perform the action.
(We do verify entries!)
Hearts of Gold Blog | From the Family | jasmineelias | Navy Grace | An Explorer's Heart
Lovely Silvia | Sunflowers and Stilettos | Lauryncakes | Life Lutzurious | Visions of Vogue
Haute Sweat | L. Avenue | Busbee Style | Simply Classy | The Sensible Shopaholic
Styled by Nelli | Michelle's Paige | How 2 Wear It | Style Weekender
Hello Darling Blog | Ruthie Ridley Blog | Jaclyn De Leon Style
The Beauty Beau | The Daiquiri Diaries | Little Bit of Living | Lizzie in Lace
Hashtags and Handbags | Two Peas in a Prada | Wishes & Reality | Fashion And Frills
*Please note: the easiest way to perform the "follow on LiketoKnow.it" actions is to download the LiketoKnow.it app->type in the name->follow.
Giveaway runs from March 13, 2018 to March 27, 2018 (concludes at 11:59 PM on the last day). Open to the US, UK and CAN. By entering you are agreeing that you are performing the actions in the Rafflecopter that you have marked as done. By entering you acknowledge that you are agreeing to these newsletter subscriptions and all other terms & conditions of the giveaway. More giveaway details can be read in the terms & conditions here. Winner will be announced within 15 days of the conclusion of the giveaway and entries will be verified by the hosts. Thanks for participating, I can't wait for you to go check out these wonderful bloggers!