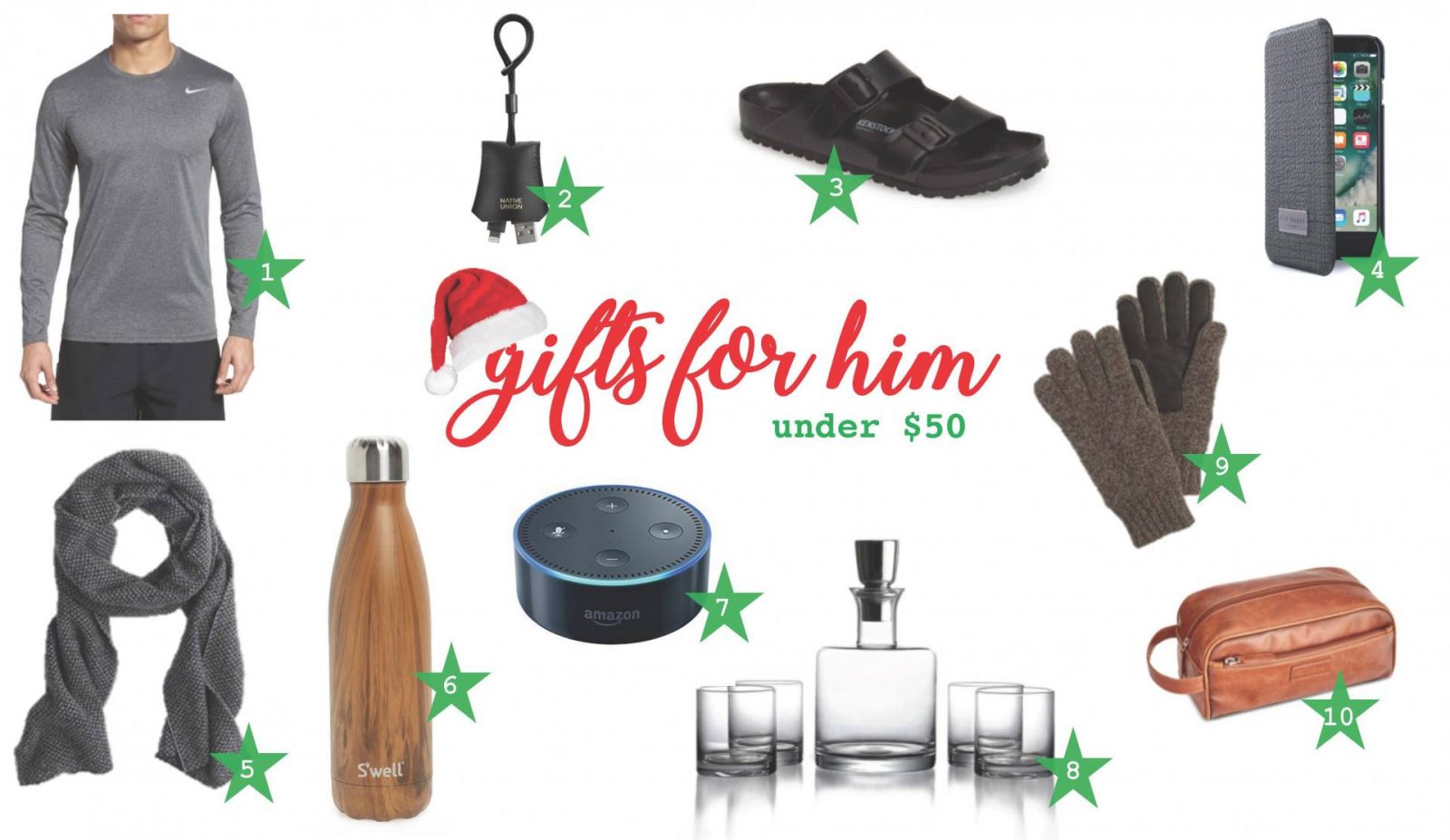 here are my top 10 holiday gifts for him, under $50. all gifts have been husband approved. in fact, i think he is now expecting a few of these under the tree… so, i'll see what i can do 😉
$50 and below is a great price point for couples, for a friend or even for a loved one. you don't have to break the bank to let someone know you are thinking about them. these are all great gifts that any special guy in your life will love!
1. athletic wear | this is a perfect gift for the athlete in your life. or, for the guy who may not hit the gym much, but lives in gym clothes. no shame. when gifting clothes, i like to stick to solid colors unless it is a patterned piece that i know the receiver will love. however, if there's ever a hint of doubt, stick with solids. you can never go wrong with solids.
shop athletic wear

2.  technology | for the techy lover in your life, this is the perfect gift. it's convenient, practical and extremely useful with our day and age!
shop tech gifts

3. shoes | a man can never have too many shoes.
shop shoes

4. cell phone case | did the man in your life recently upgrade to the new iphonex or iphone8? help them protect their shiny new toy with a fashionable case.
shop cell phone cases

5. scarves | winter is coming. just kidding, it's here. scarves are another trendy and very useful gift that will have any one smiling.
shop winter scarves

6. water bottle | for the eco-savy man in your life, or the avid traveler, these water bottles are quite the handy gift that will be used time and time again! there are many options out there, but s'well water bottles are by far my favorite choice!
shop re-usable water bottles 


7. gadgets | the amazon dot is a fun and carefree gadget that is great for anyone! if that's not for you try, the chromecast, roku or amazon fire stick. i've tried both the roku and chromecast and would have to choose the chromecast over roku, but all are great and all the options below are under $50.
shop gadgets

8. decanter set | a personal decanter set will wow any scotch, whiskey, tequila or wine snob.
shop decanters and sets

9. gloves | tech gloves, wool gloves, leather gloves, you name it, they all will be a great hit! your special someone will appreciate your gift as it warms both their hands and heart! [yes, i realize how cheezy that was…]
shop winter gloves

10. dopp kit | a dopp kit is the perfect gift for the traveler. keep all of his toiletries in one stylish place.
shop dopp kits


xoxo | jasmine