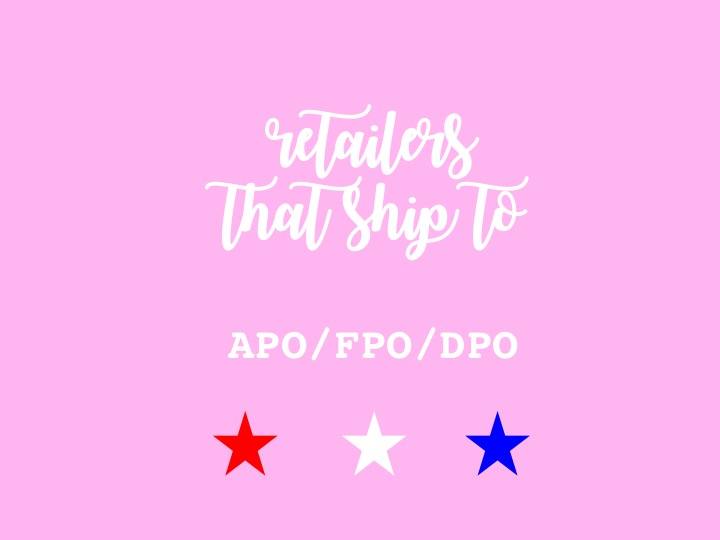 as many of you know, i am a newly inducted army wife. and one of my welcoming gifts was a move across the world to south korea. thank you army, you're too kind.
the challenges one faces when adapting to moving in with your spouse for the first time were only heightened with challenges faced in a new country, where i didn't know the language and had no familiarity.
not to mention, had no idea where to shop. as newlyweds, we sold off most of our belongings so we could start fresh together. south korea threw us for quite the curveball when we showed up to an empty apartment, empty handed.
through trial and sometimes tribulation i found some of the best american comforts to shop from that yes, deliver to APO/FPO/DPO. for all those that don't know what APO/FPO/DPO is [ i know i didn't until it magically appeared in my address,] you can disregard the mumbo jumbo and still find some of my favorite retailers below. if any of you that are locked into an APO/FPO/DPO address have a positive experience with any retailers not found below, please add them to the comments and i will continue to update this list. ps, if the writing is in pink, you can click on it to shop that retailer directly.
you can always keep up with sales and promotions for these retailers and many others by joining our facebook community here. this is a safe space to talk all things fashion and beauty as well as a great one stop shop to keep up with the latest promotions and discount codes.
** with the holidays right around the corner, i recommend getting your holiday shopping in a little early. the post office will be quite the happening place, and well… save yourself the hassle if you can.
this is one of my most favorite retailers. you can find tons of clothes at all prices, makeup, hair care, accessories, home goods, electronics, just about everything really! they always have free shipping and best of all, have free returns. in fact, every package from nordstrom comes with a pre-paid return label. that's right, a pre-paid USPS return label. all you have to do is fill in your name, stick the label on the box [you can use the box they shipped in, or choose any other box you would like] sign the form at the post office and viola. done.
checkout is easy as they have an APO/FPO/DPO option! [bless you nordstrom]. note– not all things will ship. at checkout they will kindly tell you "this item does not ship to APO". the items that don't ship are few and far between and with nordstrom's wide selection more times than not, you can find a comparable replacement.
i mean, i barely even need to say anything about this one. t h a n k y o u amazon!! i have purchased a number of furniture pieces, favorite packaged foods that i can't find anywhere [i'm talking about you, flaming hot cheetos with lime], clothing, accessories, make up products, home goods, organizers… even a bed frame. yup, a bed frame.
not everything will ship. if you find an item that doesn't ship to an APO/FPO/DPO just search the same one in the search bar and find someone else who ships it. [typically it's because the seller uses fedex or ups]. if the item is labeled "prime shipping" it typically will be in your mailbox in about a weeks time. and of course, oversized/overweight items that don't fit within the APO/FPO/DPO restrictions [sadly, rugs] will not ship.
most all of us are familiar with macy's. tons of clothing brands, make up products, accessories and homegoods. all products shipped in a timely manner, and returns are also made fairly easy. my tip for macy's is to shop when they have a special going on [typically 15-20% off + free shipping]. if anything, wait for free shipping! more times than not, there is a code for free shipping. if you're anything like me, free shipping brings out the dancing emoji and heart eyes. save a buck, earn a buck.
i know zulilly is a favorite among many. the amazing deals and steals are just too hard to pass up sometimes. i ordered some paint and household goods and i will say, they took a little longer than say, nordstrom or amazon, but they got here! so order with a little time to spare, but definitely don't pass up one of their amazing steals.
ah, the glorious target. such amazing home good and decor items, clothing, drug store make up products, snacks, hair care, kitchen goods… you know, everything. the larger items most likely won't ship, even if they tell you they will.. but you will find most smaller, everyday items will! not to mention, the toy selection never disappoints.
to access target you will need to use a VPN. hola provided by the googlechrome web browser is a free option and works like a charm. If you fancied doing some comparing and contrasting between different VPNs, take a look at vpn reviews.
if you're looking for the most comfortable sheets and bed spread, ever look no more!! you may have to talk with customer service to get your items shipped to an APO/FPO/DPO address, but they are the kindest and their sheets are the comfiest! not to mention, they ship crazy fast. in fact, our sheets and bedding made it to south korea before my husband and i did.
for all your make up and hair product needs, sephora is a go-to. also, the samples at check out are always a mega plus. 🙂 they ship to APO/FPO/DPO fairly quickly and package everything extremely well.
sephora also now ships to south korea for a flat rate of $15,000 won on purchases over $100,000 won if you choose to ship to your korean address instead of your APO.
ulta is another great option for both drug store and name brand cosmetics and hair care. they have great stocking stuffers and offer a coupon code monthly. they ship quickly and carry many products that i use daily. their selection is huge and have items for every price range. also, another great retailer with the much appreciated samples at checkout!
my order from walmart ended up being canceled. to be fair, it was a piece of furniture and i should have known better. however, after speaking with other spouses, walmart is a great go-to for basics and necessities at a great price. i'll be giving them another try after the holiday rush to give them another chance and will be sure to let you know how that goes! *i have been told to pay for shipping and forego their free shipping options if you wish to receive your items in a timely manner. i suggest trying both and looking at expected ship dates before completing the purchase so you know what to expect.
*i also recommend placing all food/perishable items in one order and all soaps, etc in another so they are not packaged together.
we ordered bath mats, pillows and numerous decor and household items from bedbathandbeyond. all arrived in a timely manner so i'm a huge fan. this is another retailer to always use a coupon with! especially the 20% off one that you can always find.
for all my fashionista ladies [sorry gents] goodnightmacaron offers trendy pieces at affordable prices and very frequently holds flash sales offering up to 50% off brand new pieces. returns aren't free, so i do recommend reading all reviews and reviewing the sizing chart before pulling the trigger. but once you do, you won't regret it.
this site doesn't actually ship to an APO/FPO/DPO but delivers all around the world, including south korea. the clothing items are at incredibly GREAT prices but can be hit or miss. my best advice is to always use a coupon and to always read reviews before making a purchase. returns are not worth it as you'll end up paying close to the same amount of the item just to send it back. however, you can find some really great and trendy pieces at really inexpensive prices!
for all kinds of shoes, accessories and numerous clothing items… use zappos! they ship quickly and have such an amazing selection! it's a great place to find some winter boots for the upcoming winter months, or flip flops or weekends in jeju.
for all you name-brand loving army spouses, shopbop will be your best friend. they offer free 2-day ship with an amazon prime account and carry a wonderful selection of name brands. not to mention have amazing sales where you can save up to 80% off on some of your favorites. best yet, shipping is always free as are returns.
revolve is similar to shopbop. if you like name brands, take a look and browse their selection. they ship fast, ship free and are easy to send a return to. returns must be sent back within a specific time frame, so try on your items as soon as they come and send back the pieces you don't like so avoid getting stuck with anything you don't want.
this is a great option for comfy and trendy clothing at affordable prices. american eagle runs promotions continuously, so be on the look for the latest discount code. currently everything is 25% off. you can always keep up with sales and promotions here.
loft is a great retailer with great sales. they ship quickly, but returns must be made quickly and i do believe you have to pay out of pocket, womp. however, their pieces are trendy, fit well and can often times be found at 40% off.
i have yet to order anything from kohls, but they do in deed ship to APO/FPO/DPO. they also offer great re-occurring discounts with free shipping over $50.
the good ole etsy, where you can find just about anything crafty, cool, and adorable doesn't let us down either. i personally really love using etsy for gifts! they have such unique and fun things that etsy items are always a crowd pleaser! plus a great way things.
i have not ordered anything from lands end personally [yet], but i did have one spouse say she received her items in 4 days. that's record time, y'all. record!! now that i'm browsing their site, well… let's just say i already have about 4 things added to my cart! they definitely have some great options and are APO/FPO/DPO friendly which is a huge plus in my book!
jcpenny is another great [and budget friendly] site that offers tons of clothing options, house hold goods, accessories and even a small toy selection! you do need to turn on a VPN in order to access the jcpenny website [if you need help downloading one shoot me a message and i would be happy to walk you through it.] once you're on the site, they offer insane deals. for example, right now everything is 65% off. whaaaat. 65% off! [depending on when you're reading this, the promotion may have ended, but they always have some kind of amazing deal for their buyers. and you can keep up with the latest promotions by joining our facebook community, here]
old navy is always a great family go-to with affordable clothes for the whole family. they have ongoing promotions that can save you a bundle on top of their already low prices!
tula is a personal favorite for all things skincare. their products are gentle and work wonders. i've used them for quite some time now. i switch back and forth from sampling new skincare routines, some which i love and i do not, but always come back to tula as home base. my husband even loves their products and prefers their facewash to any others.
this is one of my go-to retailers for all things fashion. you can find an array of prices from high to low, well-known brand names to brands no one has ever heard of it. my only advice for asos is to read the reviews and sizing chart as many of their items are made in european sizes. i typically order a size or two up if that's the case. as for shipping, my experience has earned them the fast and reliable badge.
for all you beautiful ladies with plus size clothing needs, torrid has you covered! 🙂
below are a few more locations that ship to APO/FPO/DPO that have been added by other spouses within the military community:
for any retailers that don't ship to an APO/FPO/DPO, you can also look into using www.shipittoapo.com there is a fee involved, but if the item is a must this a great option.
as always, you army spouses out there are incredible for all you do and i admire each and every one of you!
xoxo | jasmine
disclaimer | this site is free to all users. in order to keep it that way i do use affiliate links throughout my site. i am so grateful you landed here and would be beyond appreciative if you stay a while, click around and enjoy the content 😉