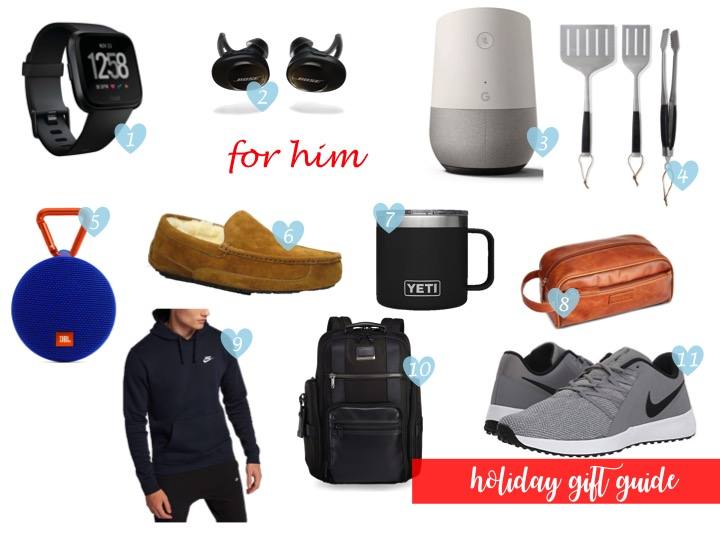 fit bit | i purchased one of these for david last year and he still wears it every single day! there are some newer ones out that look SO COOL, but there are a variety all in different price ranges to choose from as well.
2. wireless bose ear buds | this is another david approved gift. he actually asked for these specifically, and i borrow them whenever i can. these are great for the active guy! running without a headphone cord bouncing on your neck makes the run so much more enjoyable!
3. google home | the thing you never knew you needed! it's a fun gadget and for those that grew up with disney's movie, smart house, you'll appreciate it that much more!
4. grill set | we registered for these and they're a huge hit. this is a perfect gift for the grill master!
5. portable, waterproof speaker | this perfect for the movie lover and traveler. you can clip this right in your backpack and be on the go!
6. ugg slippers | we have nicknamed them "muggs" [male uggs] in my house. any homebody, or lover of things cozy and warm will love these!

7. yeti mug | the yeti mug is perfect for morning coffee and i adore the look!
8. dopkit | this is perfect for the traveler! fill it up with travel sized toiletries you'll pretty much win Christmas.
9. nike hoodie | if your guy loves the outdoors, help keep him warm in this cozy nike hoodie.
10. tumi backpack | this is perfect for both the traveler, and the guy who commutes to work. tumi is a higher end brand, but a completely reliable and durable investment. i have also linked a few other backpacks, all with stellar reviews from trustworthy brands, that range from all different price points.
11. nike shoes | i gifted a near identical pair to david and they were great for both a running and every day shoe. if your guy loves the comfortable athletic fit, these grey nikes are a perfect neutral that will go with all outfits.
xoxo | jasmine
We're making a list and checking it twice!
I've teamed up with an amazing group of bloggers
to give YOU a chance to win:
a $1,000 Nordstrom Gift Card, just in time to complete your holiday wish list!
Simply enter below by completing the rafflecopter.
You'll receive one entry per completion.
This giveaway is open to the U.S. and Canada only and runs until 12/14.
Winner will be announced here. Good Luck!
Void where prohibited.
By entering the giveaway you acknowledge that you are agreeing to complete each task,
which involves following, liking and subscribing to newsletter's.
simply click the link below to enter
a Rafflecopter giveaway